OUR GEMSTONES
PERSONALISE YOUR JEWELLERY:
· by choosing a gemstone with your favourite colour
· by selecting a birthstone that symbolises the month of birth of your child, loved one or neighbour that you want to represent in your jewellery
· or choose a stone according to the properties assigned to it
dark red Garnet #onfire
A fiery pop of colour for January babies, deep red garnet also symbolises love and helps harness your inner courage.

Purple amethyst #trustyourinstincts
Keep a cool head and hone your intuition with purple amethyst, lucky birthstone of February.

Light blue aquamarine #nolimits
Promoting a relaxed attitude and helping release your inner energy, March's cool blue aquamarine helps you reach for the stars.

Translucent quartz #2become1
Harness white quartz for an instant buzz. Enhancing your spiritual insights, the April gemstone radiates love and encourages connection.

Green emerald #onelove
May's vibrant green gemstone promotes unconditional love and gives you the creative energy to pursue your dreams.

White moonstone #sodreamy
For dreamers, moon-goddesses and those born in June, lustrous moonstone promotes peace and symbolises feminine energy.
Deep red ruby #powerandpassion
Enjoy the passion of July's bright red ruby. Open your heart to love and harness the confidence to pursue your goals.

Light green peridot #hellohappiness
Invite happiness into your life with August's fresh green peridot. Radiating positivity, peridot helps cleanse negative energy around you.

Dark blue sapphire #realfriendsonly
September's birthstone stands for truth and love, helping ensure you travel through life with only sincere friends by your side.

Pink tourmaline #goodvibes
Regain balance with October's pinky-red tourmaline. This protective stone transforms negative energy and thoughts into positive vibes.

Yellow citrine #dontworrybehappy
Sunny citrine simply shines with joy, for November babies and for all. This warm yellow stone symbolises positivity and luck.

Blue Topaz #expressyourself
Follow your own unique path with December's vibrant blue topaz. This gemstone helps you reach personal goals and individual dreams.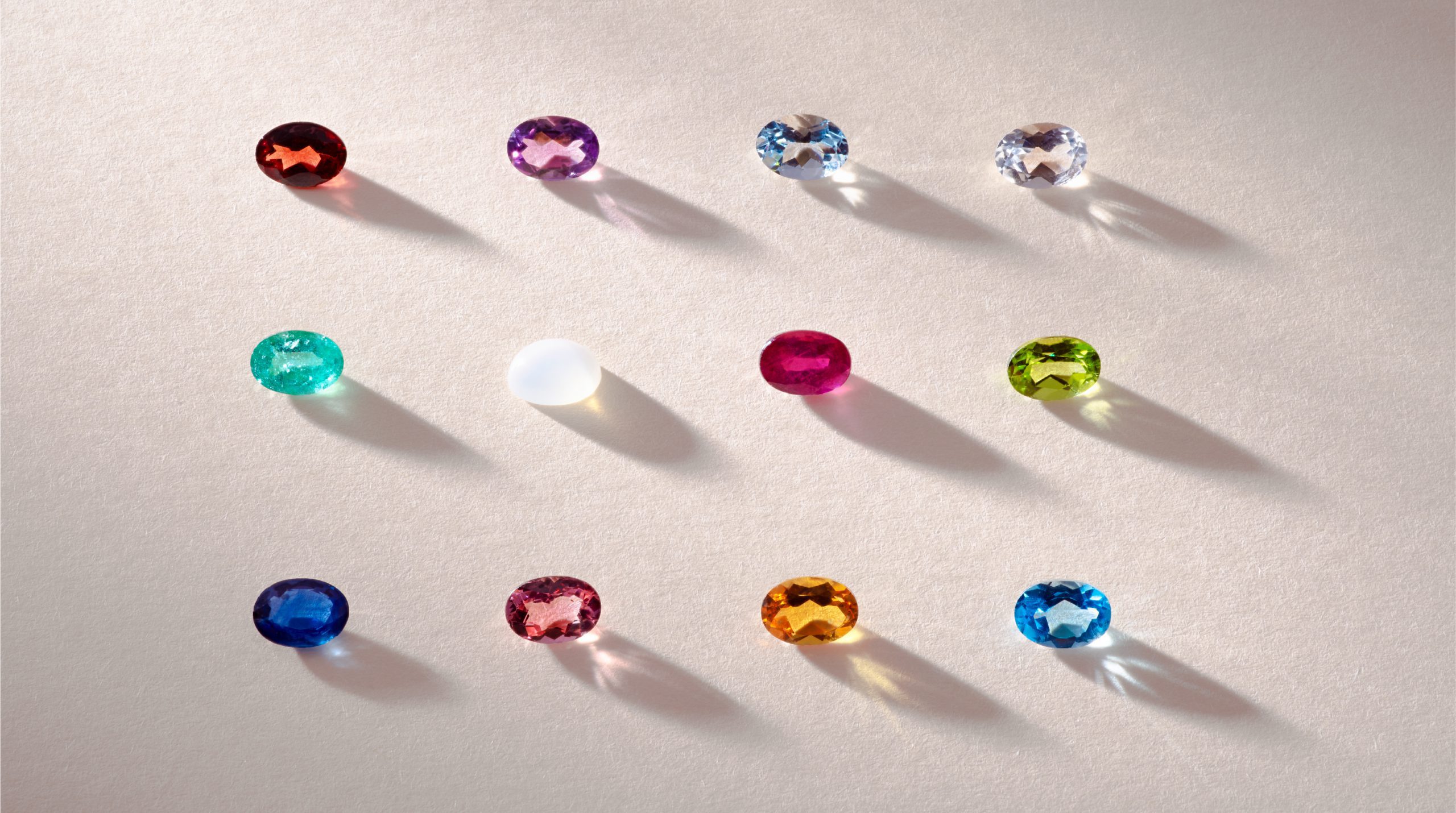 From left to right:

January: dark red garnet

February: purple amethyst

March: light blue aquamarine

April: translucent quartz

May: green emerald

June: white moonstone

July: deep red ruby

August: light green peridote

September: dark blue sapphire

October: pink tourmaline

November: yellow citrine

December: blue topaz